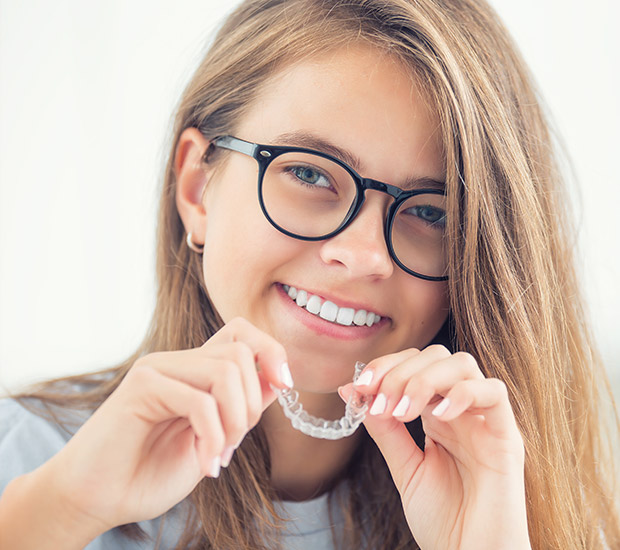 Invisalign For Teens
Seattle, WA
We understand the difficulty teens face when attempting to straighten and otherwise improve their teeth's appearance. Invisalign For Teens, with advanced technology and additional materials, was made for growing youth and their unique lives. The metal look brought by traditional braces is not the only reason many teens are switching to clear aligners - it is also the flexibility, management, and comfort that comes with Invisalign.
With Invisalign For Teens, we have continually improved our treatments and address concerns former patients have experienced. We know every smile is different and each tooth unique; therefore, it is important to address each individual tooth while assessing the mouth as a whole. Identifying the struggles and complications teens face in both their oral health and their everyday lives is what sets Invisalign For Teens apart from other clear aligner brands.
At Lovrovich Orthodontics in Seattle, we provide Invisalign consultations and treatments for teens. Our team examines patients using the Invisalign screening and imaging scanner to determine the right treatment plan for them. They will be able to see what their future smile will look like through our 3D imaging system. To learn more about our services or schedule an appointment, call (206) 525-7000 today.
How Invisalign For Teens Works
To begin the journey with Invisalign, a patient must first undergo an initial consultation that consists of a thorough examination of the mouth, digital scan, and radiographs. These diagnostic tools aid our orthodontist in determining if any present issues or complications need to be addressed prior to or during treatment and allows us to curate the right treatment plan for each patient.
Using the iTero® Element 3D scanner designed by Invisalign, we can visually see the patient's mouth on in the software system while simultaneously creating 3D images of their teeth. We are then able to determine any necessary tools or additional materials the patient may need before discussing the treatment plan. Patients are able to see what their new smile will look like by the end of treatment as well as track progress at every visit with the outcome stimulator.
Materials Made Just for Teens
Invisalign clear aligners use SmartTrack® material for enhanced comfort, faster treatment, improved control, and predictability. It then uses the 3D iTero scanner - it provides the utmost accuracy (takes 6,000 images per second) and traces the gumline to ensure aligners fit properly. Invisalign's ClinCheck® mapping software creates an algorithm that calculates the amount of force for every anticipated tooth movement and ensures teeth move at the right time in the right direction. SmartForce® Attachments are tooth-colored dots used as attachments to secure aligners to the teeth while applying the amount of force necessary.
Before Invisalign For Teens, most orthodontists and parents preferred traditional braces over aligners because of the discipline required of removable appliances. Invisalign created the Blue Compliance Indicator, small blue dots on aligners for teens that will fade from blue to clear indicating if the patient is wearing the aligner for the proper amount of time and where the patient is in the Invisalign process. This makes it easier for doctors to assess patient progress and adherence, adjusting the anticipated treatment time as necessary.
Cases That Can be Treated
Invisalign has transformed over 8 million smiles, and its technology continues to advance to allow for more treatable cases. Invisalign for Teens specializes in common teen complications such as intrusions, protrusions, spacing issues, bite misalignment, and irregular dental arches. Through the smile assessment, we are able to determine if Invisalign can treat a patient's case but common treatable cases include:
Overbites, underbites, crossbites, open bite: upper and lower jaws do not line up
Gap bites: extra spaces between teeth
Crowded bites: teeth do not fit normally in the jaw
Baby and permanent teeth: a mixture of primary and permanent teeth
Straighter smile: minor adjustments for straighter teeth
Guidelines for Teens
Invisalign for Teens allows teens to improve their smiles while maintaining their social lives and playing sports. Removable appliances are convenient, but they also require self-discipline and accountability in order to attain accurate and timely results. The Journal of the Canadian Dental Association found that "Adherence to a prescribed treatment modality is of utmost importance in ensuring successful therapy. Lack of adherence can reduce the effectiveness of the best treatment plan and the most promising treatment mechanisms."
Although aligners are removable, they must be worn for about 22 hours a day in order to apply the constant force needed for the teeth to stay in position. Teeth are naturally inclined to shift back to their original placement. Aligners should be removed only when eating and drinking colored liquids, such as coffee, tea, and juices. Water is the only permitted beverage when wearing the aligners as the trays can become stained.
Maintaining the Aligners
To properly maintain the aligners, patients must practice good oral hygiene as the teeth and gums largely affect the trays. After eating, patients should brush their teeth, floss, and rinse with mouthwash to remove any excess residue or food particles before reinserting the aligners. When eating or brushing teeth, aligners should be placed in a case to keep them free of dirt particles and avoid loss or breakage.
Good oral hygiene is not enough to maintain the aligners and keep the oral cavity clean and healthy. Apart from personal oral hygiene care, aligner trays have their cleaning routine. To avoid staining the trays, aligners should be cleaned twice daily using lukewarm water and mouthwash or cleaning crystals. Gently brush the inside and outside of the trays using a soft toothbrush. Other options include placing the aligners in a tub of lukewarm water and a rinse or the cleaning crystals for at least 15 minutes. Do not use hot water as this can warp the material.
Schedule a Visit Today
Invisalign for Teens consultations and treatments are available at our office. The Lovrovich Orthodontics team looks forward to treating you or your teen and fast-track that new smile. Call our office at (206) 525-7000 to learn more or schedule an appointment.
Frequently Asked Questions About Invisalign for Teens
Are the aligner sets created all at once or changed based on progress?
Patients come in every 8-12 weeks to check their progress and pick up their next batch of aligners. However, if the patient's progress is not in line with the aligner sets made, we will inform you of the next steps. This will likely entail wearing the current aligners while waiting for the new sets to be ready.
How much does Invisalign treatment cost?
The cost of Invisalign varies from patient to patient depending on complexity, duration, amount of trays, and insurance coverage. Treatment may be covered or partly-covered by insurance or paid in monthly payments. We will discuss payment methods during the initial consultation appointment.
What is an appropriate age for my teen to start Invisalign treatment?
Although Invisalign treats young children with baby teeth, Invisalign Teen is made for adult teeth and is similar to Invisalign for adults. Permanent adult teeth usually all come in by the age of 11-12. Therefore, we recommend scheduling a consultation around the age of 11 years old.
What happens if my teen loses or breaks their aligners?
It is very common for teens to lose or break their aligners - while eating at school, accidentally throwing them away, leaving them at a friend's house, forgetting them in the bathroom, and more. Contact us as soon as you notice they are missing or broken, and we will order replacement aligners. We can also guide your teen on whether they should continue wearing their current aligners or move on to the next in the set.
Are there any dietary restrictions?
Traditional metal braces have many dietary restrictions. That is why many teens ask if Invisalign comes with the same set of restrictions. The answer is no! Since aligners are removable and patients can take them off when eating and drinking, they are able to eat and drink what they want, when they want.
What happens after Invisalign treatment?
Teeth tend to shift back to their original position in the mouth soon after pressure and force are removed. We, along with most orthodontists, strongly recommend patients wear a retainer after Invisalign treatment. Vivera® retainers by Invisalign are virtually invisible and made from a proprietary material that enhances strength and durability, helping patients keep their new smiles.
Recent Posts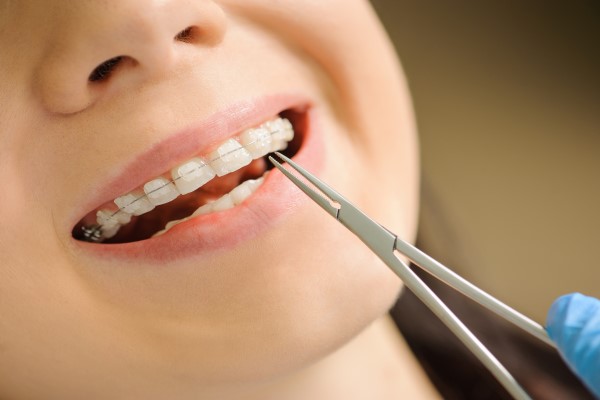 You may have seen someone wearing ceramic braces without even knowing it. These are most well-known for their discreet appearance and are ideal alternatives for patients who are concerned about how noticeable their braces would look. Read on to learn more about why ceramic braces are trusted among orthodontic professionals.Ceramic braces are among the most…